Welcome

Assalamu Alaikum Wa Rahmatullahi Wa Barkatuhu,
Darul Uloom has come an extremely long way since those early days in 1985 when the school started with just a small building and even less resources. My vision was to establish an institute that would create experts in the Islamic sciences who would become exemplary representatives of Islam, preserve the Islamic identity of British Muslims, and possess the necessary skills to benefit the local community and enrich the wider society...

Read more

Our Mission and Philosophy

Our aim is to offer a complete education by nurturing and developing every aspect of a student's heart, mind and body so that they become creative thinkers, conscientious leaders and sincere believers. DUIHS combines 1438 years of rich Islamic History and tradition with the 21st century needs of students living in modern day Britain. We provide an exceptional all-round Islamic and secular education for boys of secondary school age.

At DUIHS we have students from diverse ethnic and cultural backgrounds. However we are all united serving one purpose; service of Allaah's religion through mutual love and cooperation.

Departments and Programs

As well as encouraging academic excellence, drive and achievement, with remarkable results at GCSE, DUIHS provides a great emphasis on Tarbiyyah (moral and spiritual training) of students. And in doing so instilling in them excellent adab and akhlaaq (manners and good character) and a strong attachment to Allaah and the Sunnah of the Prophet Sallallaah Alahi Wa sallam.

A S P I R E

The Darul Uloom way makes DUIHS values-based and values-driven. This is the foundation of the work we do with every student. Underpinning the Darul Uloom way is our key value of

ASPIRE

. This means all our students must

A

chieve, have

S

olidarity with the Ummah,

P

ersevere in all that they do, have excellent

I

slam, have

R

espect for everyone and

E

xcel.

Outstanding Achievement 2016-17

All praises are for Allaah alone, who has generously converted our efforts and hard work into outstanding GCSE results.

In the vast majority of the GCSE subjects taught at the Darul Uloom we achieved a 100% A*-C pass rate. 94% of our students achieved seven or more A*-C GCSE passes including English and mathematics, with some students achieving as many as eleven A*-C GCSE passes. 94% of our students also achieved the 5+A*-C including English and mathematics ensuring they all continue in further education. We are hopefully that after a remark of one student's exams this figure will go up to 100% 5+A*-C  (including English and Maths). This is well above the national average.

A number of our students took GCSE Arabic early in year's 9 and 10 and all achieved a minimum of grade A and some achieved an A*. One of our Year 11 students took an additional GCSE equivalent qualification in further mathematics and achieved a grade A.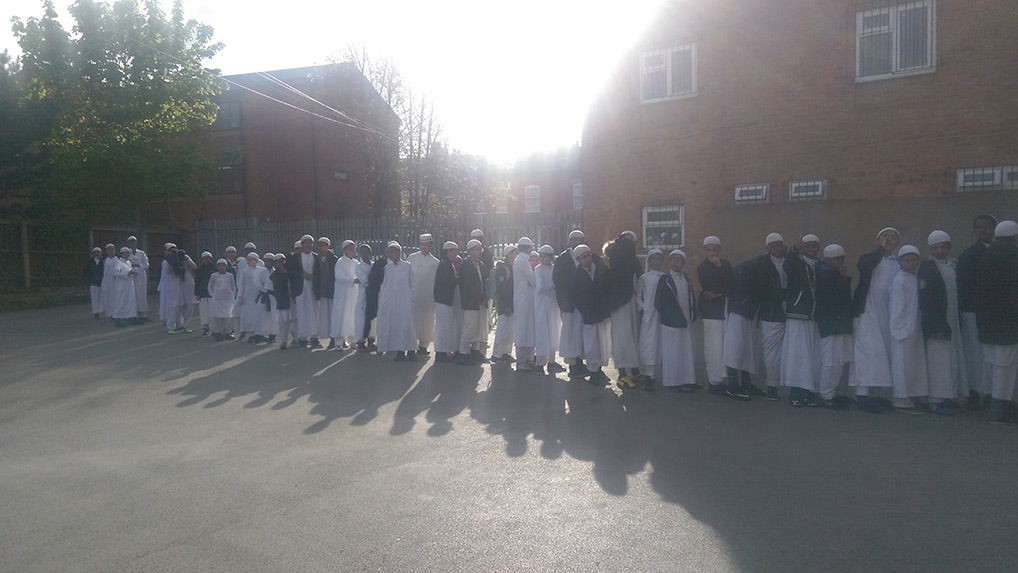 Apply for your child
Darul Uloom Islamic High School is an independent private secondary school catering for boys from Year 7 to 11
94%
5+ A* - C including Maths & English GCSE RESULTS 2016
100%
9 -4 GCSE English Literature
94%
A* - C GCSE Additional Science
100%
A* - C GCSE Religious Studies